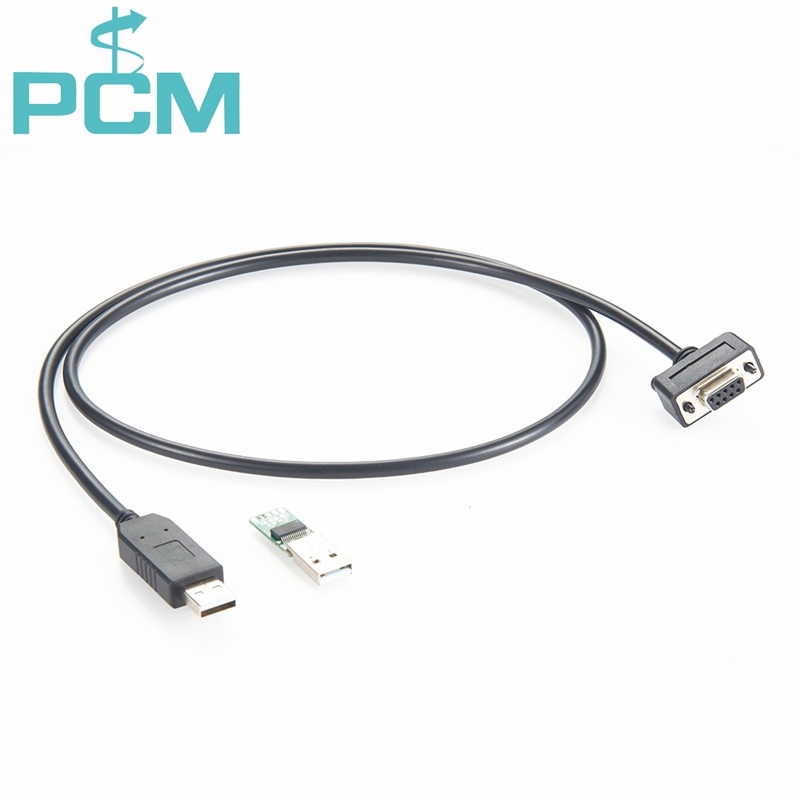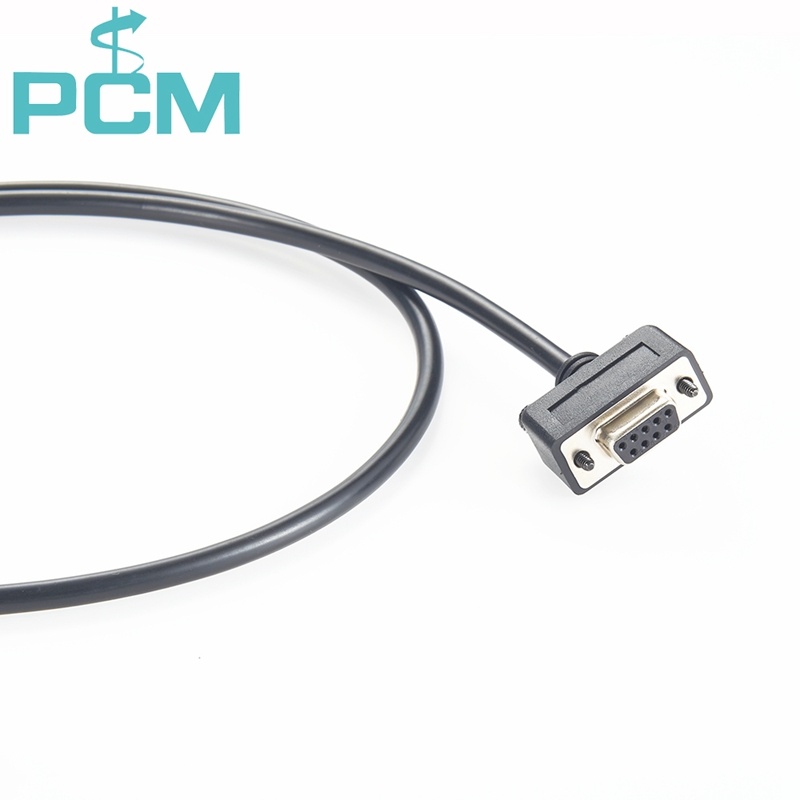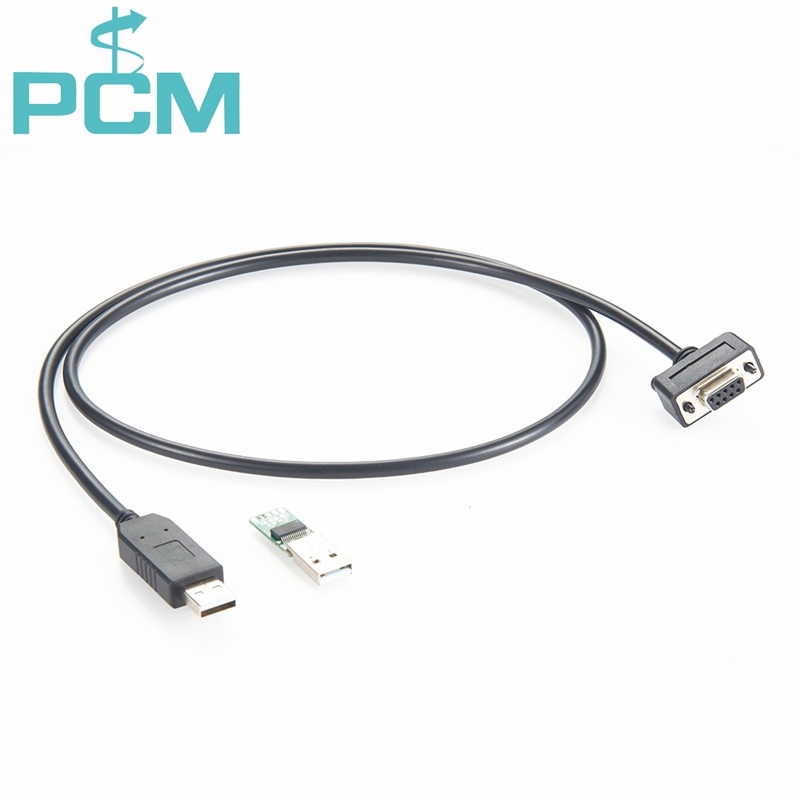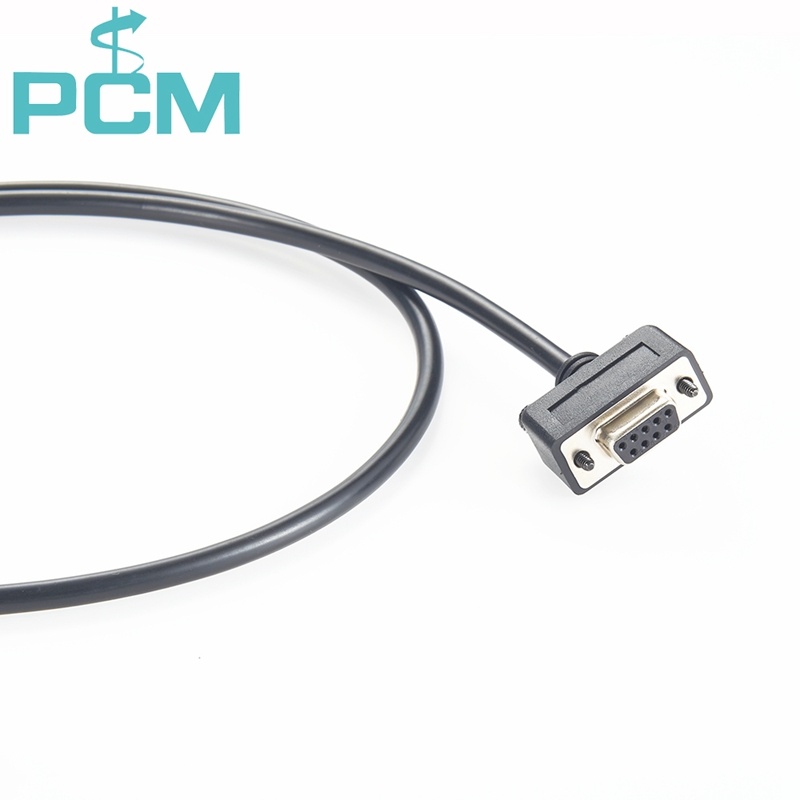 Converter USB RS232 female FTDI Cable
USB to DB99 RS232 serial cable FTDI chip 90 degree angle DB9 Female To USB Male 90 Degree Right Angle Connector Cable FTDI USB to Serial Adapter RS232 Female Cable DB9 RS 232 Interface Converter
---
Converter USB RS232 female FTDI Cable

Konverter USB RS232 Buchse FTDI Kabel

Converter USB to RS232 female FTDI Cable
USB to DB99 RS232 serial cable FTDI chip 90 degree angle
DB9 Female To USB Male 90 Degree Right Angle Connector Cable
FTDI USB to Serial Adapter RS232 Female Cable DB9 RS232 Interface Converter

Using shielded cable to protect your data from EMI/RFI noise interference
Seriously Build a Serial Cable With FTDI Chip for Reliable Data Transmission
10ft is a great length that is long enough to put your device in a wanted place
Translucent plastic shell makes it a stylish cord and also you can see the used materials
Built-in FTDI Chip supports the widest possible OS compatibility: Windows 10, 8, 8.1, 7, Vista, XP, Linux and Mac

Works with Modem, serial console, ISDN, PDA, PLC, POS, serial printer, digital cameras, programming machine and punch machine, etc

It is well made with strong materials: copper conductors and gold plated connectors guarantee supreme signal purity; foil and copper braided shielding reduces EMI and RFI interference.

RS232 Serial to USB converter adds a serial port to your computer, allowing you to make the most of your existing devices without COM port or to let you free up your existing computer serial port.
Konverter USB auf RS232 FTDI-Kabel
USB zu DB99 RS232 serielles Kabel FTDI-Chip 90-Grad-Winkel
DB9-Buchse auf USB-Stecker 90 Grad rechtwinkliges Anschlusskabel
FTDI USB-auf-Seriell-Adapter RS232-Buchse Kabel DB9 RS232-Schnittstellenkonverter

Verwenden Sie ein abgeschirmtes Kabel, um Ihre Daten vor EMI/RFI-Störstörungen zu schützen
Bauen Sie ernsthaft ein serielles Kabel mit FTDI-Chip für eine zuverlässige Datenübertragung
10ft ist eine großartige Länge, die lang genug ist, um Ihr Gerät an einem gewünschten Ort zu platzieren
Die durchscheinende Kunststoffhülle macht es zu einer stylischen Kordel und man kann auch die verwendeten Materialien sehen
Der eingebaute FTDI-Chip unterstützt die größtmögliche Betriebssystemkompatibilität: Windows 10, 8, 8.1, 7, Vista, XP, Linux und Mac

Funktioniert mit Modem, serieller Konsole, ISDN, PDA, SPS, POS, seriellem Drucker, Digitalkameras, Programmiermaschine und Stanzmaschine usw.

Es ist mit starken Materialien gut verarbeitet: Kupferleiter und vergoldete Anschlüsse garantieren höchste Signalreinheit; Folien- und Kupfergeflechtschirmung reduziert EMI- und RFI-Interferenzen.

Der RS232 Seriell-zu-USB-Konverter fügt Ihrem Computer einen seriellen Anschluss hinzu, sodass Sie Ihre vorhandenen Geräte ohne COM-Anschluss optimal nutzen oder Ihren vorhandenen seriellen Computeranschluss freigeben können.

Convertisseur USB RS232 femelle Câble FTDI

Μετατροπέας USB RS232 θηλυκό καλώδιο FTDI

Câble convertisseur USB vers RS232 femelle FTDI
Câble série USB vers DB99 RS232 Puce FTDI Angle de 90 degrés
Câble de connecteur à angle droit DB9 femelle vers USB mâle à 90 degrés
Adaptateur USB vers série FTDI Câble femelle RS232 Convertisseur d'interface DB9 RS232

Utilisation d'un câble blindé pour protéger vos données des interférences EMI/RFI
Construisez sérieusement un câble série avec une puce FTDI pour une transmission de données fiable
10 pieds est une grande longueur qui est assez longue pour mettre votre appareil dans un endroit désiré
La coque en plastique translucide en fait un cordon élégant et vous pouvez également voir les matériaux utilisés
La puce FTDI intégrée prend en charge la compatibilité de système d'exploitation la plus large possible : Windows 10, 8, 8.1, 7, Vista, XP, Linux et Mac

Fonctionne avec modem, console série, RNIS, PDA, PLC, POS, imprimante série, appareils photo numériques, machine de programmation et poinçonneuse, etc.

Il est bien fait avec des matériaux solides : les conducteurs en cuivre et les connecteurs plaqués or garantissent une pureté de signal suprême ; Le blindage en feuille et en cuivre tressé réduit les interférences EMI et RFI.

Le convertisseur série RS232 vers USB ajoute un port série à votre ordinateur, vous permettant de tirer le meilleur parti de vos appareils existants sans port COM ou de libérer le port série de votre ordinateur existant.
Μετατροπέας USB σε RS232 θηλυκό καλώδιο FTDI
USB σε DB99 RS232 σειριακό καλώδιο FTDI chip γωνία 90 μοιρών
DB9 Θηλυκό σε USB αρσενικό καλώδιο σύνδεσης ορθής γωνίας 90 μοιρών
Μετατροπέας διασύνδεσης FTDI USB σε σειριακό RS232 Θηλυκό καλώδιο DB9 RS232

Χρησιμοποιώντας θωρακισμένο καλώδιο για την προστασία των δεδομένων σας από παρεμβολές θορύβου EMI/RFI
Κατασκευάστε σοβαρά ένα σειριακό καλώδιο με τσιπ FTDI για αξιόπιστη μετάδοση δεδομένων
Τα 10 πόδια είναι ένα μεγάλο μήκος που είναι αρκετά μεγάλο για να τοποθετήσετε τη συσκευή σας σε μια επιθυμητή θέση
Το ημιδιαφανές πλαστικό κέλυφος το κάνει ένα κομψό κορδόνι και μπορείτε επίσης να δείτε τα χρησιμοποιημένα υλικά
Το ενσωματωμένο τσιπ FTDI υποστηρίζει την ευρύτερη δυνατή συμβατότητα λειτουργικού συστήματος: Windows 10, 8, 8.1, 7, Vista, XP, Linux και Mac

Λειτουργεί με μόντεμ, σειριακή κονσόλα, ISDN, PDA, PLC, POS, σειριακό εκτυπωτή, ψηφιακές κάμερες, μηχανή προγραμματισμού και μηχανή διάτρησης κ.λπ.

Είναι καλοφτιαγμένο με ισχυρά υλικά: οι χάλκινοι αγωγοί και οι επίχρυσοι σύνδεσμοι εγγυώνται εξαιρετική καθαρότητα σήματος. Η θωράκιση με πλεκτό φύλλο και χαλκό μειώνει τις παρεμβολές EMI και RFI.

Ο μετατροπέας RS232 Serial σε USB προσθέτει μια σειριακή θύρα στον υπολογιστή σας, επιτρέποντάς σας να αξιοποιήσετε στο έπακρο τις υπάρχουσες συσκευές σας χωρίς θύρα COM ή να σας επιτρέψει να ελευθερώσετε την υπάρχουσα σειριακή θύρα του υπολογιστή σας.

Konverter USB RS232 hun FTDI kabel

Konverter USB RS232 hunn FTDI-kabel

Konverter USB til RS232 hun FTDI kabel
USB til DB99 RS232 seriel kabel FTDI chip 90 graders vinkel
DB9 hun til USB han 90 grader retvinklet stikkabel
FTDI USB til seriel adapter RS232 hunkabel DB9 RS232 grænsefladekonverter

Brug af skærmet kabel til at beskytte dine data mod EMI/RFI-støjinterferens
Byg seriøst et seriel kabel med FTDI-chip til pålidelig datatransmission
10 fod er en stor længde, der er lang nok til at placere din enhed på det ønskede sted
Gennemsigtig plastskal gør det til en stilfuld ledning, og du kan også se de brugte materialer
Indbygget FTDI-chip understøtter den bredest mulige OS-kompatibilitet: Windows 10, 8, 8.1, 7, Vista, XP, Linux og Mac

Fungerer med modem, seriel konsol, ISDN, PDA, PLC, POS, seriel printer, digitale kameraer, programmeringsmaskine og hulmaskine osv.

Det er godt lavet med stærke materialer: kobberledere og guldbelagte stik garanterer suveræn signalrenhed; folie og kobberflettet afskærmning reducerer EMI- og RFI-interferens.

RS232 seriel til USB-konverter tilføjer en seriel port til din computer, så du kan få mest muligt ud af dine eksisterende enheder uden COM-port eller give dig mulighed for at frigøre din eksisterende computers serielle port.
Konverter USB til RS232 hunn FTDI-kabel
USB til DB99 RS232 seriell kabel FTDI-brikke 90 graders vinkel
DB9 hunn til USB hann 90 grader rettvinklet koblingskabel
FTDI USB til seriell adapter RS232 hunnkabel DB9 RS232 grensesnittkonverter

Bruker skjermet kabel for å beskytte dataene dine mot EMI/RFI-støyforstyrrelser
Bygg seriøst en seriell kabel med FTDI-brikke for pålitelig dataoverføring
10 fot er en flott lengde som er lang nok til å plassere enheten på ønsket sted
Gjennomsiktig plastskall gjør den til en stilig ledning, og du kan også se de brukte materialene
Innebygd FTDI-brikke støtter den bredest mulige OS-kompatibiliteten: Windows 10, 8, 8.1, 7, Vista, XP, Linux og Mac

Fungerer med modem, seriekonsoll, ISDN, PDA, PLS, POS, serieskriver, digitale kameraer, programmeringsmaskin og stansemaskin, etc.

Den er godt laget med sterke materialer: kobberledere og gullbelagte kontakter garanterer suveren signalrenhet; folie og kobberflettet skjerming reduserer EMI- og RFI-interferens.

RS232 seriell til USB-omformer legger til en seriell port til datamaskinen din, slik at du kan få mest mulig ut av dine eksisterende enheter uten COM-port eller for å la deg frigjøre den eksisterende datamaskinens serieport.

Omvandlare USB RS232 hona FTDI-kabel

Convertidor USB RS232 hembra FTDI Cable

Omvandlar USB till RS232 hona FTDI-kabel
USB till DB99 RS232 seriell kabel FTDI-chip 90 graders vinkel
DB9 hona till USB hane 90 graders rätvinklig anslutningskabel
FTDI USB till seriell adapter RS232 honkabel DB9 RS232 gränssnittskonverterare

Använder en skärmad kabel för att skydda dina data från EMI/RFI-brusstörningar
Bygg seriöst en seriell kabel med FTDI-chip för pålitlig dataöverföring
10 fot är en stor längd som är tillräckligt lång för att placera din enhet på önskad plats
Genomskinligt plastskal gör det till en snygg sladd och även du kan se de använda materialen
Inbyggt FTDI-chip stöder största möjliga OS-kompatibilitet: Windows 10, 8, 8.1, 7, Vista, XP, Linux och Mac

Fungerar med modem, seriell konsol, ISDN, PDA, PLC, POS, seriell skrivare, digitalkameror, programmeringsmaskin och stansmaskin, etc.

Den är välgjord med starka material: kopparledare och guldpläterade kontakter garanterar suverän signalrenhet; folie och kopparflätad skärmning minskar EMI- och RFI-störningar.

RS232 seriell till USB-omvandlare lägger till en seriell port till din dator, så att du kan få ut det mesta av dina befintliga enheter utan COM-port eller så att du kan frigöra din befintliga datorserieport.
Convertidor USB a RS232 hembra FTDI Cable
Cable serial USB a DB99 RS232 Chip FTDI Ángulo de 90 grados
DB9 hembra a USB macho Cable conector en ángulo recto de 90 grados
FTDI Adaptador USB a serie RS232 Cable hembra DB9 Convertidor de interfaz RS232

Uso de cable blindado para proteger sus datos de interferencias de ruido EMI / RFI
Construya seriamente un cable serial con chip FTDI para una transmisión de datos confiable
10 pies es una gran longitud que es lo suficientemente larga como para colocar su dispositivo en el lugar deseado
La carcasa de plástico translúcido lo convierte en un cordón elegante y también puede ver los materiales usados
El chip FTDI integrado admite la mayor compatibilidad posible con los sistemas operativos: Windows 10, 8, 8.1, 7, Vista, XP, Linux y Mac

Funciona con módem, consola serial, ISDN, PDA, PLC, POS, impresora serial, cámaras digitales, máquina de programación y perforadora, etc.

Está bien hecho con materiales fuertes: los conductores de cobre y los conectores chapados en oro garantizan una pureza de señal suprema; El blindaje trenzado de cobre y lámina reduce la interferencia EMI y RFI.

El convertidor RS232 serial a USB agrega un puerto serial a su computadora, lo que le permite aprovechar al máximo sus dispositivos existentes sin puerto COM o dejarle liberar el puerto serial de su computadora existente.

Convertitore USB RS232 femmina Cavo FTDI

Conversor de cabo USB RS232 fêmea FTDI

Convertitore da USB a cavo FTDI femmina RS232
Cavo seriale da USB a DB99 RS232 Chip FTDI Angolo di 90 gradi
Cavo connettore ad angolo retto da 90 gradi femmina a USB maschio DB9
Adattatore FTDI da USB a seriale Cavo RS232 femmina Convertitore di interfaccia DB9 RS232

Utilizzo di un cavo schermato per proteggere i dati da interferenze di rumore EMI/RFI
Costruisci seriamente un cavo seriale con chip FTDI per una trasmissione dati affidabile
10 piedi è una grande lunghezza che è abbastanza lunga da mettere il tuo dispositivo in un posto desiderato
Il guscio di plastica traslucida lo rende un cavo elegante e puoi anche vedere i materiali usati
Il chip FTDI integrato supporta la più ampia compatibilità possibile del sistema operativo: Windows 10, 8, 8.1, 7, Vista, XP, Linux e Mac

Funziona con modem, console seriale, ISDN, PDA, PLC, POS, stampante seriale, fotocamere digitali, macchina di programmazione e punzonatrice, ecc.

È ben realizzato con materiali resistenti: conduttori in rame e connettori placcati in oro garantiscono la massima purezza del segnale; la lamina e la schermatura intrecciata in rame riducono le interferenze EMI e RFI.

Il convertitore da seriale a USB RS232 aggiunge una porta seriale al tuo computer, permettendoti di sfruttare al meglio i tuoi dispositivi esistenti senza porta COM o di liberare la porta seriale del tuo computer esistente.
Conversor USB para cabo FTDI fêmea RS232
Cabo serial USB para DB99 RS232 chip FTDI ângulo de 90 graus
DB9 fêmea para USB macho cabo conector de ângulo reto de 90 graus
FTDI USB para adaptador serial RS232 cabo fêmea DB9 conversor de interface RS232

Usando cabo blindado para proteger seus dados de interferência de ruído EMI / RFI
Construa seriamente um cabo serial com chip FTDI para transmissão confiável de dados
10 pés é um grande comprimento que é longo o suficiente para colocar seu dispositivo em um lugar desejado
O invólucro de plástico translúcido torna-o um cordão estiloso e você também pode ver os materiais usados
O Chip FTDI integrado suporta a compatibilidade de sistema operacional mais ampla possível: Windows 10, 8, 8.1, 7, Vista, XP, Linux e Mac

Funciona com Modem, console serial, ISDN, PDA, PLC, POS, impressora serial, câmeras digitais, máquina de programação e máquina de perfuração, etc

É bem feito com materiais fortes: condutores de cobre e conectores banhados a ouro garantem pureza de sinal suprema; a blindagem de folha metálica e trançada de cobre reduz a interferência EMI e RFI.

O conversor RS232 Serial para USB adiciona uma porta serial ao seu computador, permitindo que você aproveite ao máximo seus dispositivos existentes sem porta COM ou para liberar a porta serial existente do seu computador.

Muunnin USB RS232 naaras FTDI-kaapeli

Converter USB RS232 vrouwelijke FTDI-kabel

Muunnin USB RS232 naaras FTDI-kaapeli
USB-DB99 RS232-sarjakaapeli FTDI-siru 90 asteen kulmassa
DB9 naaras - USB-uros 90 asteen suorakulmainen liitinkaapeli
FTDI USB-sarjasovitin RS232 naaraskaapeli DB9 RS232 liitäntämuunnin

Suojatun kaapelin käyttäminen suojaamaan tietojasi EMI/RFI-kohinahäiriöiltä
Rakenna vakavasti sarjakaapeli FTDI-sirulla luotettavaa tiedonsiirtoa varten
10 jalkaa on suuri pituus, joka on tarpeeksi pitkä sijoittamaan laitteesi haluttuun paikkaan
Läpinäkyvä muovikuori tekee siitä tyylikkään johdon ja näet myös käytetyt materiaalit
Sisäänrakennettu FTDI-siru tukee mahdollisimman laajaa käyttöjärjestelmän yhteensopivuutta: Windows 10, 8, 8.1, 7, Vista, XP, Linux ja Mac

Toimii modeemin, sarjakonsolin, ISDN:n, PDA:n, PLC:n, POS:n, sarjatulostimen, digikameroiden, ohjelmointikoneen ja rei'ityslaitteen kanssa jne.

Se on tehty hyvin vahvoista materiaaleista: kuparijohtimet ja kullatut liittimet takaavat ylimmän signaalin puhtauden; kalvo- ja kuparipunossuojaus vähentää EMI- ja RFI-häiriöitä.

RS232 Serial to USB -muunnin lisää sarjaportin tietokoneeseesi, jolloin voit hyödyntää olemassa olevia laitteitasi parhaalla mahdollisella tavalla ilman COM-porttia tai vapauttaa olemassa olevan tietokoneen sarjaportin.
Converter USB naar RS232 vrouwelijke FTDI-kabel
USB naar DB99 RS232 seriële kabel FTDI-chip 90 graden hoek
DB9 Female naar USB Male 90 graden haakse connectorkabel
FTDI USB naar seriële adapter RS232 vrouwelijke kabel DB9 RS232-interfaceconverter

Afgeschermde kabel gebruiken om uw gegevens te beschermen tegen EMI/RFI-ruisinterferentie
Bouw serieus een seriële kabel met FTDI-chip voor betrouwbare gegevensoverdracht
10ft is een grote lengte die lang genoeg is om uw apparaat op een gewilde plaats te plaatsen
Doorschijnend plastic omhulsel maakt het een stijlvol snoer en je kunt ook de gebruikte materialen zien
Ingebouwde FTDI-chip ondersteunt de breedst mogelijke OS-compatibiliteit: Windows 10, 8, 8.1, 7, Vista, XP, Linux en Mac

Werkt met Modem, seriële console, ISDN, PDA, PLC, POS, seriële printer, digitale camera's, programmeermachine en ponsmachine, enz

Het is goed gemaakt met sterke materialen: koperen geleiders en vergulde connectoren garanderen een superieure signaalzuiverheid; folie en koperen gevlochten afscherming vermindert EMI- en RFI-interferentie.

RS232 Serieel naar USB-converter voegt een seriële poort toe aan uw computer, zodat u het meeste uit uw bestaande apparaten zonder COM-poort kunt halen of uw bestaande seriële computerpoort kunt vrijmaken.

ממיר כבל FTDI USB RS232 נקבה

محول USB RS232 أنثى كابل FTDI

ממיר כבל USB ל-RS232 נקבה FTDI
USB ל-DB99 RS232 כבל טורי FTDI שבב זווית של 90 מעלות
DB9 נקבה ל-USB זכר כבל מחבר זווית ישרה 90 מעלות
מתאם FTDI USB לטורי RS232 כבל נשי DB9 RS232 ממשק ממיר

שימוש בכבל מסוכך כדי להגן על הנתונים שלך מהפרעות רעש EMI/RFI
בנה ברצינות כבל טורי עם שבב FTDI להעברת נתונים אמינה
10 רגל הוא אורך גדול שהוא ארוך מספיק כדי לשים את המכשיר שלך במקום מבוקש
מעטפת פלסטיק שקופה הופכת אותו לחוט מסוגנן וגם אתה יכול לראות את החומרים המשומשים
שבב FTDI מובנה תומך בתאימות מערכת ההפעלה הרחבה ביותר האפשרית: Windows 10, 8, 8.1, 7, Vista, XP, Linux ו-Mac

עובד עם מודם, קונסולה טורית, ISDN, PDA, PLC, POS, מדפסת טורית, מצלמות דיגיטליות, מכונת תכנות ומכונת ניקוב וכו'

הוא עשוי היטב מחומרים חזקים: מוליכים נחושת ומחברים מצופים זהב מבטיחים טוהר אות עילאי; מיגון קלוע בנייר כסף ונחושת מפחית הפרעות EMI ו-RFI.

ממיר RS232 טורי ל-USB מוסיף יציאה טורית למחשב שלך, ומאפשר לך להפיק את המרב מההתקנים הקיימים שלך ללא יציאת COM או לאפשר לך לפנות את היציאה הטורית הקיימת במחשב שלך.
محول USB إلى كابل RS232 أنثى FTDI
USB إلى DB99 RS232 كابل تسلسلي رقاقة FTDI زاوية 90 درجة
DB9 أنثى إلى USB ذكر 90 درجة زاوية موصل كابل
FTDI USB إلى المسلسل محول RS232 أنثى كابل DB9 RS232 محول واجهة

استخدام كبل محمي لحماية بياناتك من تداخل ضوضاء EMI / RFI
قم ببناء كبل تسلسلي بجدية باستخدام شريحة FTDI لنقل البيانات بشكل موثوق
10 أقدام هو طول كبير وطويل بما يكفي لوضع جهازك في المكان المطلوب
غلاف بلاستيكي شفاف يجعله سلكًا أنيقًا ويمكنك أيضًا رؤية المواد المستخدمة
تدعم رقاقة FTDI المدمجة أكبر توافق ممكن مع نظام التشغيل: Windows 10 و 8 و 8.1 و 7 و Vista و XP و Linux و Mac

يعمل مع المودم ووحدة التحكم التسلسلية و ISDN و PDA و PLC و POS والطابعة التسلسلية والكاميرات الرقمية وآلة البرمجة وآلة الثقب ، إلخ

إنه مصنوع جيدًا من مواد قوية: تضمن الموصلات النحاسية والموصلات المطلية بالذهب نقاء إشارة فائق ؛ رقائق معدنية وتدريع النحاس مضفر يقلل من تداخل EMI و RFI.

يضيف محول RS232 المسلسل إلى USB منفذًا تسلسليًا إلى جهاز الكمبيوتر الخاص بك ، مما يتيح لك تحقيق أقصى استفادة من أجهزتك الحالية بدون منفذ COM أو السماح لك بتحرير المنفذ التسلسلي الموجود في الكمبيوتر لديك.