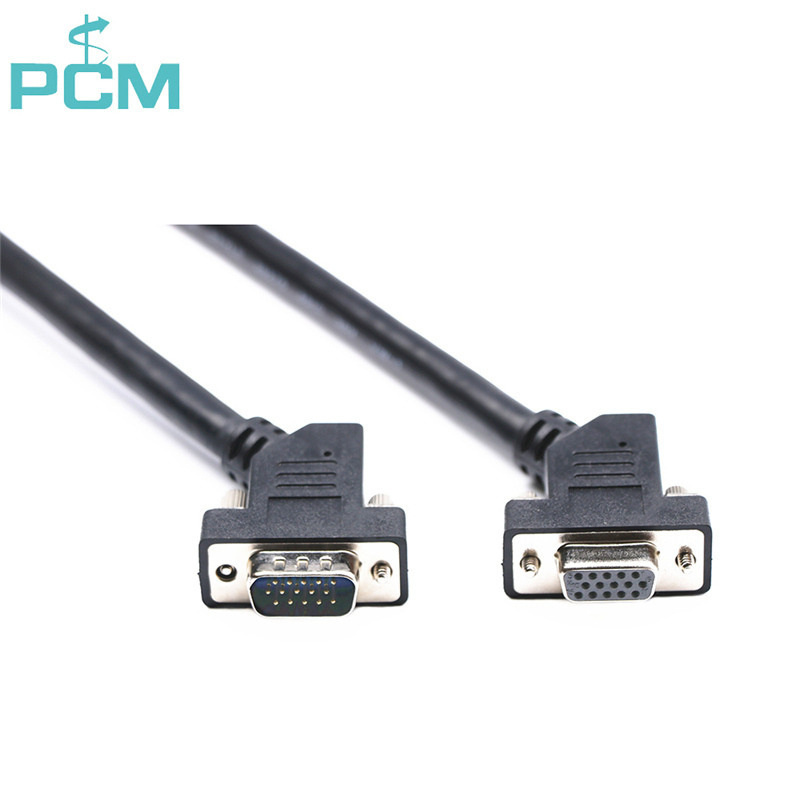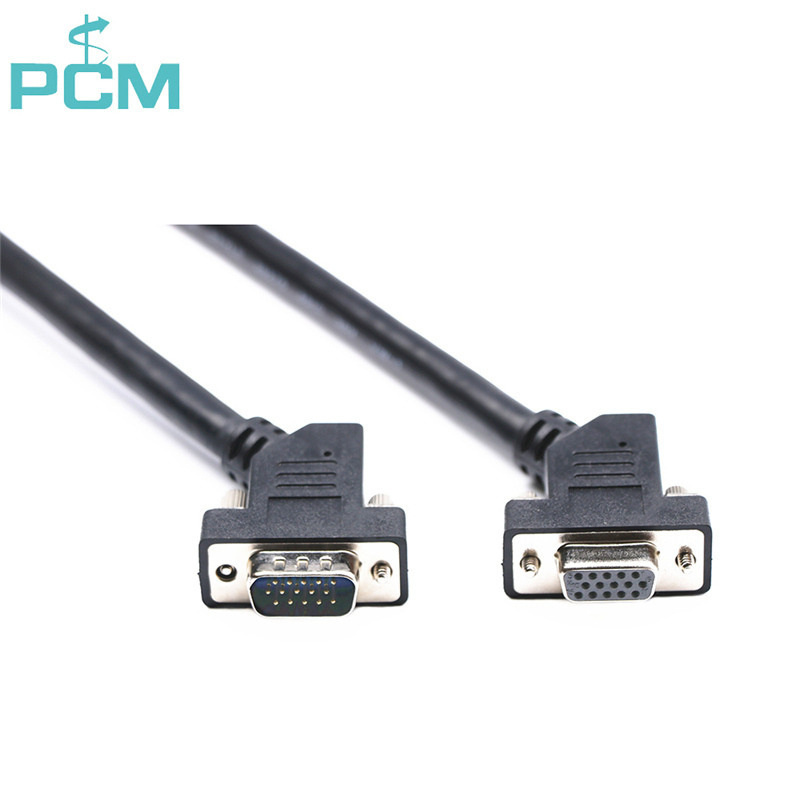 DB15 VGA HD15 angled connector 45 degree
DB15 VGA HD15 angled connector 45 degree
---
DB15 VGA HD15 angled connector 45 degree

DB15 VGA HD15 abgewinkelter Anschluss 45 Grad


VGA Monitor Cable
45 degree VGA Cable Male-to-Male
90 Degree Right Left Angled to Straight Connector VGA Cables

Supports 1920x1200 video resolution up to 25 feet.
Male 15HD to male 90-degree angled 15HD left exit extension.
Angled 90-degree left exit connector enables easy installation in tight spots.

VGA-Monitorkabel
45-Grad-VGA-Kabel Stecker-zu-Stecker
90-Grad-Rechts-Links-Winkel zu VGA-Kabeln mit geradem Anschluss

Unterstützt eine Videoauflösung von 1920x1200 bis zu 25 Fuß.
Stecker 15HD auf Stecker, 90-Grad-Winkel 15HD, linke Ausgangsverlängerung.
Der abgewinkelte 90-Grad-Ausgangsanschluss links ermöglicht eine einfache Installation an engen Stellen.

Connecteur DB15 VGA HD15 coudé 45 degrés

DB15 VGA HD15 γωνιακή υποδοχή 45 μοιρών


Câble de moniteur VGA
Câble VGA 45 degrés mâle-mâle
Câbles VGA à connecteur droit à angle droit à gauche à 90 degrés

Prend en charge la résolution vidéo 1920x1200 jusqu'à 25 pieds.
Extension de sortie gauche mâle 15HD à mâle à angle de 90 degrés 15HD.
Le connecteur de sortie gauche coudé à 90 degrés permet une installation facile dans les endroits exigus.

Καλώδιο οθόνης VGA
Καλώδιο VGA 45 μοιρών αρσενικό σε αρσενικό
90 Μοίρες Δεξιά Αριστερά Γωνία σε Ευθεία Σύνδεση Καλώδια VGA

Υποστηρίζει ανάλυση βίντεο 1920x1200 έως και 25 πόδια.
Αρσενικό 15HD προς αρσενικό γωνία 90 μοιρών 15HD αριστερή προέκταση εξόδου.
Ο γωνιακός σύνδεσμος αριστερής εξόδου 90 μοιρών επιτρέπει την εύκολη εγκατάσταση σε στενά σημεία.

DB15 VGA HD15 vinklet stik 45 grader

DB15 VGA HD15 vinklet kontakt 45 grader


VGA-skærmkabel
45 graders VGA-kabel han-til-han
90 grader højre venstre vinklet til lige stik VGA-kabler

Understøtter 1920x1200 videoopløsning op til 25 fod.
Han 15HD til han 90-graders vinklet 15HD venstre udgangsforlænger.
Vinklet 90-graders venstre udgangsstik muliggør nem installation på trange steder.

VGA-skjermkabel
45 graders VGA-kabel hann-til-hann
90 grader høyre venstre vinklet til rett kontakt VGA-kabler

Støtter 1920x1200 videooppløsning på opptil 25 fot.
Hann 15HD til hann 90-graders vinklet 15HD venstre utgangsforlengelse.
Vinklet 90-graders venstre utgangskontakt muliggjør enkel installasjon på trange steder.

DB15 VGA HD15 vinklad kontakt 45 grader

Conector acodado DB15 VGA HD15 de 45 grados


VGA-skärmkabel
45 graders VGA-kabel hane-till-hane
90 grader höger vänster vinklad till rak kontakt VGA-kablar

Stöder 1920x1200 videoupplösning upp till 25 fot.
Hane 15HD till hane 90-graders vinklad 15HD vänster utgångsförlängning.
Vinklad 90-graders vänsterutgångskontakt möjliggör enkel installation i trånga ställen.

Cable de monitor VGA
Cable VGA de 45 grados macho a macho
Cables VGA de 90 grados en ángulo derecho izquierdo a conector recto

Admite una resolución de video de 1920x1200 de hasta 25 pies.
Extensión de salida izquierda macho 15HD a macho 15HD en ángulo de 90 grados.
El conector de salida izquierda en ángulo de 90 grados permite una fácil instalación en lugares estrechos.

Connettore angolato DB15 VGA HD15 45 gradi

Conector angular DB15 VGA HD15 de 45 graus


Cavo monitor VGA
Cavo VGA a 45 gradi da maschio a maschio
Cavi VGA da 90 gradi da destra a sinistra ad angolo a connettore dritto

Supporta la risoluzione video 1920x1200 fino a 25 piedi.
Estensione di uscita sinistra da maschio 15HD a maschio 15HD angolata a 90 gradi.
Il connettore di uscita sinistro angolato a 90 gradi consente una facile installazione in spazi ristretti.

Cabo de monitor VGA
Cabo VGA de 45 graus macho para macho
Cabos VGA de 90 graus em ângulo esquerdo para reto de 90 graus

Suporta resolução de vídeo 1920x1200 de até 25 pés.
15HD masculino para extensão de saída esquerda 15HD angular de 90 graus masculino.
O conector de saída esquerdo angulado de 90 graus permite fácil instalação em locais apertados.

DB15 VGA HD15 kulmaliitin 45 astetta

DB15 VGA HD15 haakse connector 45 graden


VGA näytön kaapeli
45 asteen VGA-kaapeli uros-uros
90 astetta oikeaan vasempaan kulmaan suoraan liittimeen VGA-kaapelit

Tukee 1920x1200 videoresoluutiota 25 jalkaan asti.
Uros 15HD - uros 90 asteen kulmassa 15HD vasen ulostulolaajennus.
Kulmassa oleva 90 astetta vasen ulostuloliitin mahdollistaa helpon asennuksen ahtaisiin paikkoihin.

VGA-monitorkabel
45 graden VGA-kabel mannelijk naar mannelijk
90 graden rechts links schuin naar rechte connector VGA-kabels

Ondersteunt 1920x1200 videoresolutie tot 25 voet.
Man 15HD naar mannelijke 90 graden gehoekte 15HD linker uitgangsverlenging.
Gehoekte 90 graden linker uitgangsconnector maakt eenvoudige installatie op krappe plekken mogelijk.

מחבר זוויתי DB15 VGA HD15 45 מעלות

موصل زاوية DB15 VGA HD15 بزاوية 45 درجة


כבל צג VGA
כבל VGA 45 מעלות זכר לזכר
90 מעלות ימין שמאל בזווית למחבר ישר כבלי VGA

תומך ברזולוציית וידאו של 1920x1200 עד 25 רגל.
זכר 15HD לזכר בזווית של 15HD 15HD שמאל.
מחבר יציאה שמאלי בזווית של 90 מעלות מאפשר התקנה קלה במקומות צרים.

كابل شاشة VGA
كابل VGA 45 درجة ذكر إلى ذكر
90 درجة يمين يسار بزاوية إلى كبلات VGA موصل مستقيم

يدعم دقة فيديو تصل إلى 1920 × 1200 حتى 25 قدم.
ذكر 15HD للذكور بزاوية 90 درجة 15HD امتداد مخرج اليسار.
يتيح موصل الخروج الأيسر بزاوية 90 درجة سهولة التثبيت في الأماكن الضيقة.