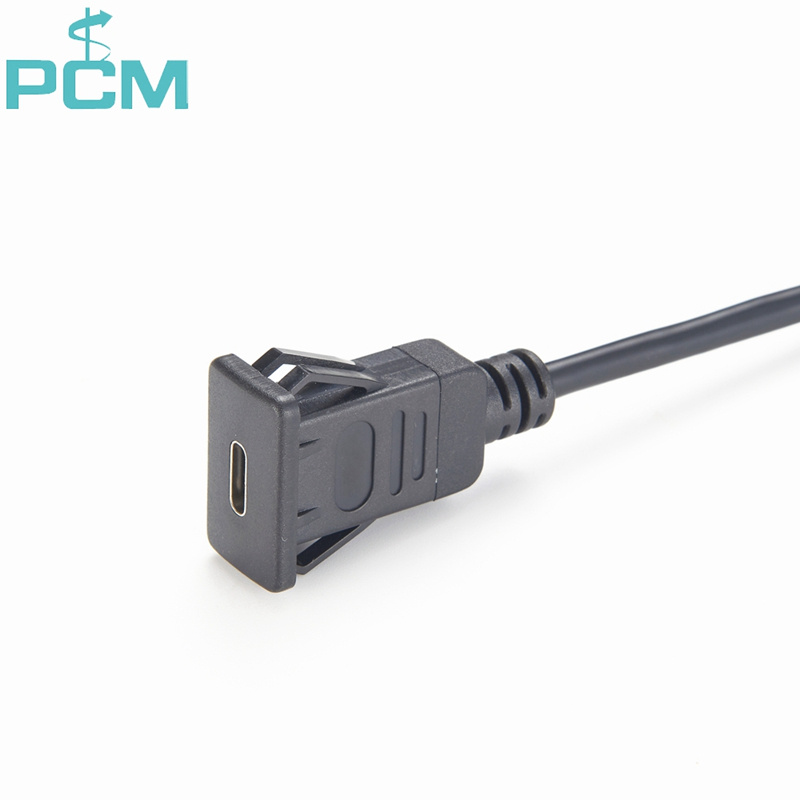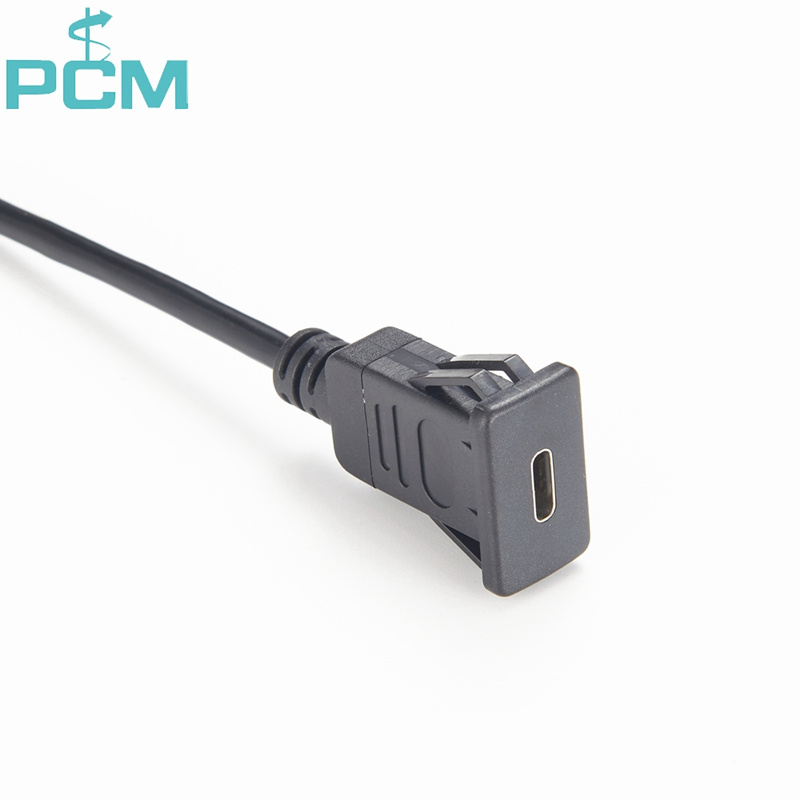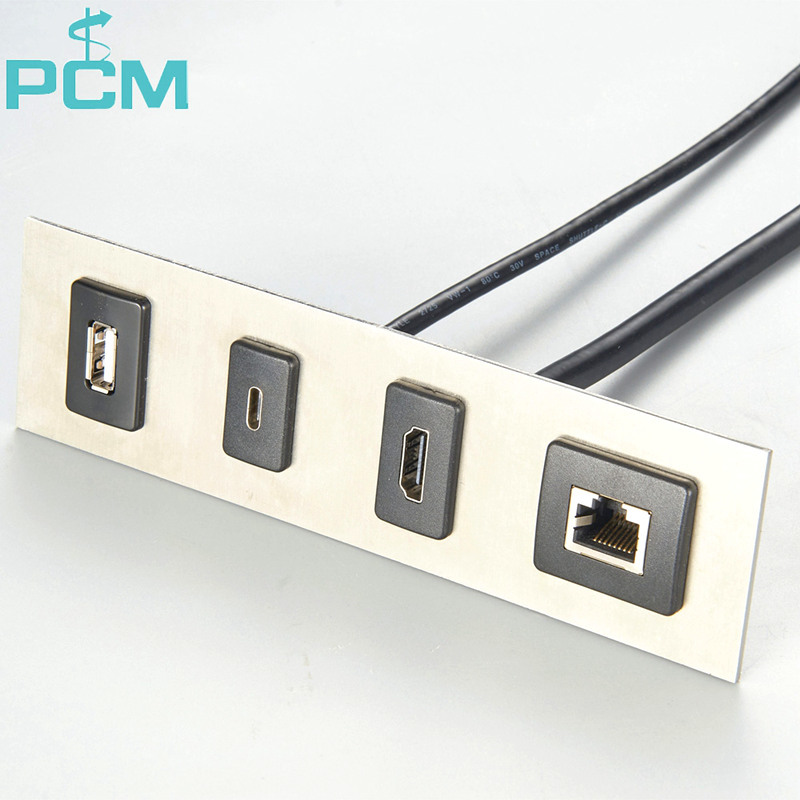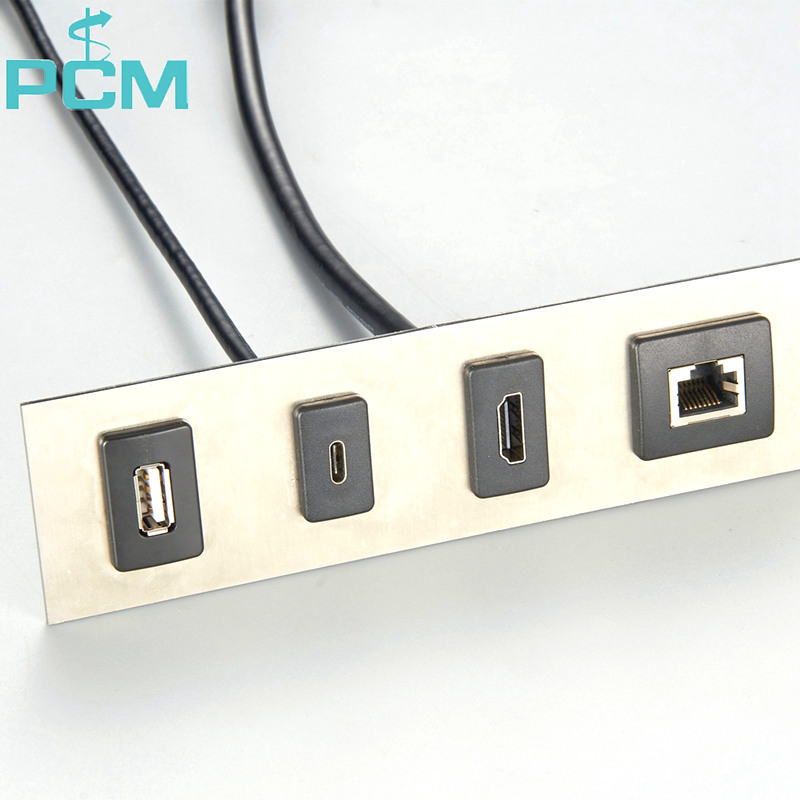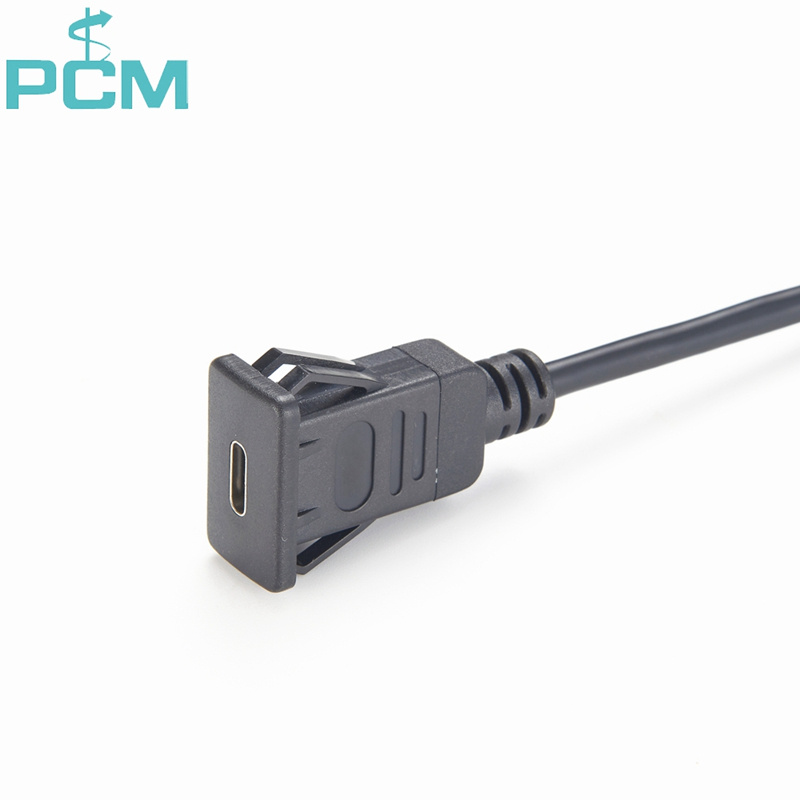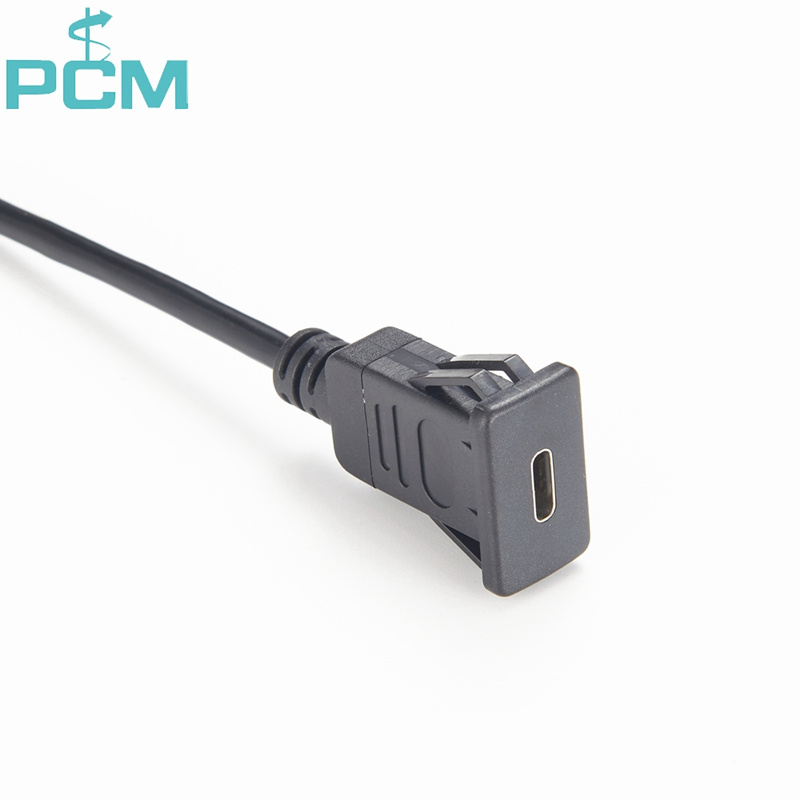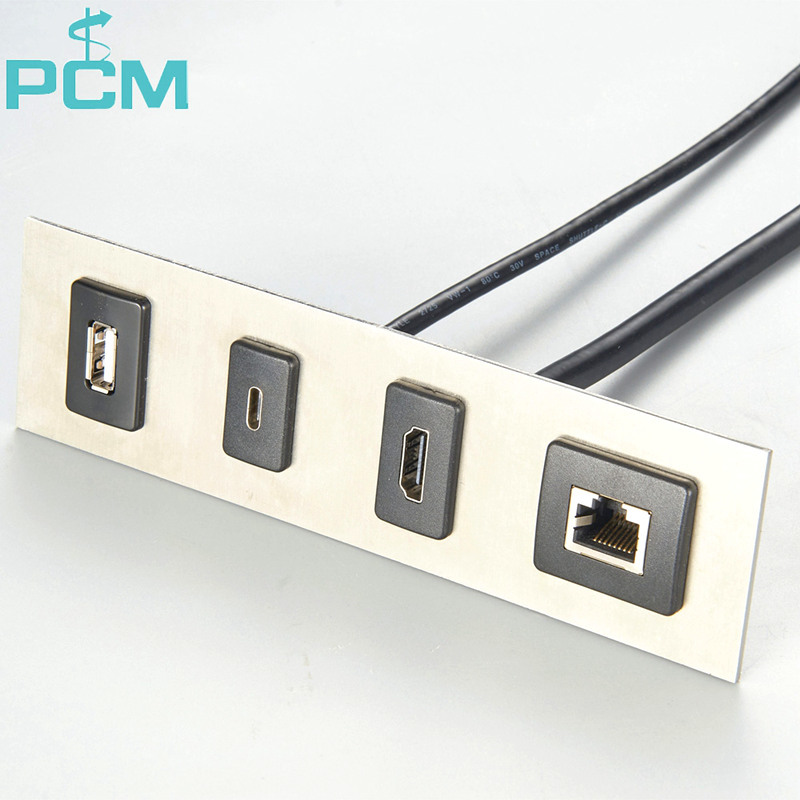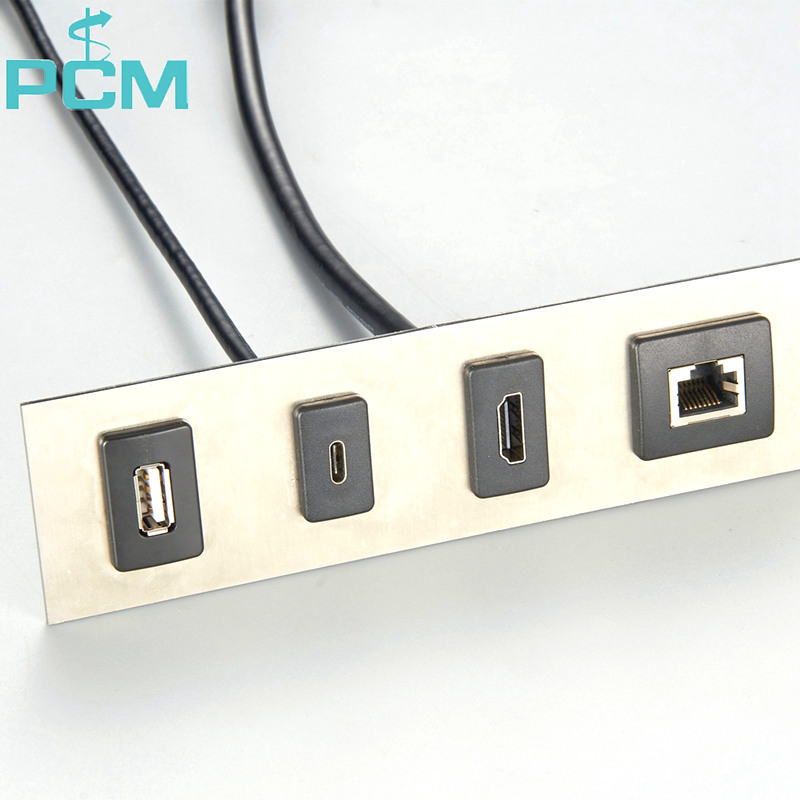 Snap-In Panel Mount USB Cable Type C Socket
Snap-In Panel Mount USB Cable Type C Socket
---
Snap-In Panel Mount USB Cable Type C Socket

USB-Kabel-Typ-C-Buchse mit Snap-In-Panel-Montage


USB 3.1C Type C Female to male Snap-in
Snap-In Panel Mount Cable - USB C Socket
USB 3.1 type C Panel Mount Female-Male Snap In
USB type C Single Panel Mount Female-Male Snap In
Snap-in Panel Mount Cable - USB C Socket To USB A Plug
USB 3.1 Type C Front Panel Header Cable to USB 3.1 Type E

* Custom design versions for unique terminations and tooling are welcomed.
* Industry innovative Single 3.1 USB C Female Snap-In Panel Mount to Male USB C Cable.
* Part of the innovative snap In panel mount cable line which all offer equipment integrator's a very efficient and flexible option to extend port connections from an internal single-board computer anywhere their design may require.
* Built for industrial applications from the highest quality UL, Reach, and RoHS compliant materials
* This panel mount cable will allow you to enclose a device that has a USB A port, and also converts it to a modern USB C connector at the same time.
* Perfect for placing your project in a secure box! One end is a USB A plug connector, and other is a USB C socket with special over molding. What's special about this, you ask? It's a Snap In Panel Mount Cable much easier than a classic panel mount cables, you don't need screws or drills for installation.
* Cut out a rectangular shape about 21.8mm 0.86 by 10.9mm 0.43" , up to 5mm thick, and then snap the panel in, it will fit snugly and cover up any burrs, so your cut doesn't have to be so precise. Cable is 30cm long about 12 inches

* Kundenspezifische Designversionen für einzigartige Anschlüsse und Werkzeuge sind willkommen.
* Brancheninnovative Single 3.1 USB-C-Buchse mit Snap-In-Panel-Halterung auf USB-C-Stecker.
* Teil der innovativen Snap-In-Kabellinie für die Schalttafelmontage, die Geräteintegratoren eine sehr effiziente und flexible Option bietet, Portverbindungen von einem internen Single-Board-Computer überall dort zu erweitern, wo ihr Design es erfordert.
* Gebaut für industrielle Anwendungen aus hochwertigsten UL-, Reach- und RoHS-konformen Materialien
* Dieses Kabel für die Schalttafelmontage ermöglicht es Ihnen, ein Gerät mit einem USB-A-Anschluss anzuschließen und es gleichzeitig in einen modernen USB-C-Anschluss umzuwandeln.
* Perfekt, um Ihr Projekt in einer sicheren Box zu platzieren! Ein Ende ist ein USB-A-Stecker und das andere eine USB-C-Buchse mit spezieller Umspritzung. Was ist das Besondere daran, fragen Sie? Es ist ein Snap-In Panel Mount Cable viel einfacher als ein klassisches Panel Mount Kabel, Sie benötigen keine Schrauben oder Bohrer für die Installation.

Prise de type C pour câble USB à montage sur panneau enfichable

Υποδοχή καλωδίου USB τύπου C για τοποθέτηση σε πίνακα Snap-In


* Les versions de conception personnalisées pour les terminaisons et l'outillage uniques sont les bienvenues.
* Innovant dans l'industrie, un seul câble USB C femelle enfichable pour montage sur panneau vers un câble USB C mâle.
* Fait partie de la gamme innovante de câbles à encliqueter pour montage sur panneau qui offrent tous aux intégrateurs d'équipements une option très efficace et flexible pour étendre les connexions de port à partir d'un ordinateur à carte unique interne partout où leur conception peut l'exiger.
* Conçu pour les applications industrielles à partir de matériaux conformes aux normes UL, Reach et RoHS de la plus haute qualité
* Ce câble à montage sur panneau vous permettra d'enfermer un appareil doté d'un port USB A et de le convertir en un connecteur USB C moderne en même temps.
* Parfait pour placer votre projet dans une boîte sécurisée ! Une extrémité est un connecteur USB A et l'autre est une prise USB C avec surmoulage spécial. Quelle est la particularité de cela, demandez-vous? C'est un câble à montage sur panneau encliquetable beaucoup plus facile qu'un câble à montage sur panneau classique, vous n'avez pas besoin de vis ou de perceuses pour l'installation.

* Εκδόσεις προσαρμοσμένου σχεδιασμού για μοναδικούς τερματισμούς και εργαλεία είναι ευπρόσδεκτες.
* Πρωτοποριακό στη βιομηχανία Single 3.1 USB C Female Snap-In Panel Mount σε αρσενικό καλώδιο USB C.
* Μέρος της καινοτόμου γραμμής καλωδιακής τοποθέτησης σε πάνελ, η οποία προσφέρει όλα τα συστήματα ενοποίησης εξοπλισμού είναι μια πολύ αποτελεσματική και ευέλικτη επιλογή για την επέκταση των συνδέσεων θυρών από έναν εσωτερικό υπολογιστή μονής πλακέτας οπουδήποτε μπορεί να απαιτήσει ο σχεδιασμός τους.
* Κατασκευασμένο για βιομηχανικές εφαρμογές από υλικά υψηλής ποιότητας συμβατά με UL, Reach και RoHS
* Αυτό το καλώδιο στερέωσης πάνελ θα σας επιτρέψει να περικλείσετε μια συσκευή που διαθέτει θύρα USB A και ταυτόχρονα τη μετατρέπει σε μια σύγχρονη υποδοχή USB C.
* Ιδανικό για την τοποθέτηση του έργου σας σε ένα ασφαλές κουτί! Το ένα άκρο είναι ένα βύσμα USB A και το άλλο είναι μια υποδοχή USB C με ειδικό καλούπι. Τι το ιδιαίτερο έχει αυτό, ρωτάτε; Είναι ένα Snap In Panel Mount Cable πολύ πιο εύκολο από ένα κλασικό καλώδιο στήριξης πάνελ, δεν χρειάζεστε βίδες ή τρυπάνια για την εγκατάσταση.

Snap-In panelmonteret USB-kabel Type C-stik

Snap-In panelmontert USB-kabel Type C-kontakt


* Specialdesignede versioner til unikke afslutninger og værktøj er velkomne.
* Industriinnovativ enkelt 3.1 USB C hun-snap-in panelmontering til han-USB C-kabel.
* En del af den innovative snap-in panelmonterede kabellinje, som alle tilbyder udstyrsintegratorer en meget effektiv og fleksibel mulighed for at udvide portforbindelser fra en intern singleboard-computer, hvor som helst deres design kræver det.
* Bygget til industrielle applikationer af højeste kvalitet UL, Reach og RoHS kompatible materialer
* Dette panelmonteringskabel giver dig mulighed for at omslutte en enhed, der har en USB A-port, og konverterer den også til et moderne USB C-stik på samme tid.
* Perfekt til at placere dit projekt i en sikker boks! Den ene ende er et USB A-stik, og den anden er et USB C-stik med speciel overstøbning. Hvad er specielt ved det her, spørger du? Det er et Snap In Panel Mount Kabel meget nemmere end et klassisk panelmonteret kabler, du behøver ikke skruer eller bor til installation.

* Tilpassede designversjoner for unike avslutninger og verktøy er velkommen.
* Bransjenyskapende Single 3.1 USB C Female Snap-In Panel Mount til Hann USB C-kabel.
* En del av den innovative snap-in-panelmonterte kabellinjen, som alle tilbyr utstyrsintegratorer et svært effektivt og fleksibelt alternativ for å utvide portforbindelser fra en intern enkeltkortsdatamaskin hvor som helst deres design måtte kreve.
* Bygget for industrielle applikasjoner av høyeste kvalitet UL, Reach og RoHS-kompatible materialer
* Denne panelmonterte kabelen lar deg omslutte en enhet som har en USB A-port, og konverterer den til en moderne USB C-kontakt samtidig.
* Perfekt for å plassere prosjektet i en sikker boks! Den ene enden er en USB A-pluggkontakt, og den andre er en USB C-kontakt med spesiell overstøping. Hva er spesielt med dette, spør du? Det er en Snap In Panel Mount-kabel mye enklere enn en klassisk panelmontert kabler, du trenger ikke skruer eller bor for installasjon.

Snap-In Panelmonterad USB-kabel Typ C-uttag

Enchufe tipo C de cable USB de montaje en panel a presión


* Anpassade designversioner för unika avslutningar och verktyg välkomnas.
* Branschinnovativa Single 3.1 USB C Hona Snap-In Panel Mount till Hane USB C-kabel.
* En del av den innovativa snäpp-in panelmonterade kabellinjen som alla erbjuder utrustningsintegratorer ett mycket effektivt och flexibelt alternativ för att utöka portanslutningar från en intern enkelkortsdator var som helst där deras design kan kräva.
* Byggd för industriella applikationer av högsta kvalitet UL, Reach och RoHS-kompatibla material
* Den här panelmonteringskabeln gör att du kan omsluta en enhet som har en USB A-port och samtidigt konvertera den till en modern USB C-kontakt.
* Perfekt för att placera ditt projekt i en säker låda! Ena änden är en USB A-kontakt, och den andra är ett USB C-uttag med speciell övergjutning. Vad är speciellt med det här, frågar du dig? Det är en Snap In Panel Mount Kabel mycket enklare än en klassisk panelmonterad kablar, du behöver inga skruvar eller borrar för installation.

* Se aceptan versiones de diseño personalizado para terminaciones y herramientas únicas.
* Innovador en la industria, un solo cable 3.1 USB C hembra a presión para montaje en panel a un cable USB C macho.
* Parte de la innovadora línea de cables de montaje en panel a presión, que ofrecen a los integradores de equipos una opción muy eficiente y flexible para extender las conexiones de puertos desde una computadora interna de placa única en cualquier lugar que requiera su diseño.
* Construido para aplicaciones industriales con materiales de la más alta calidad que cumplen con UL, Reach y RoHS
* Este cable de montaje en panel le permitirá incluir un dispositivo que tenga un puerto USB A y, al mismo tiempo, convertirlo en un conector USB C moderno.
* ¡Perfecto para colocar su proyecto en una caja segura! Un extremo es un conector USB A y el otro es un enchufe USB C con moldura especial. ¿Qué tiene de especial esto, preguntas? Es un cable de montaje en panel a presión mucho más fácil que los cables clásicos de montaje en panel, no necesita tornillos ni taladros para la instalación.

Presa tipo C per cavo USB con montaggio a pannello a scatto

Soquete de cabo USB tipo C para montagem em painel de encaixe


* Sono benvenute versioni di design personalizzato per terminazioni e strumenti unici.
* Cavo USB C maschio singolo da 3.1 USB C femmina con montaggio a pannello a scatto innovativo per il settore.
* Parte dell'innovativa linea di cavi per montaggio a pannello a scatto che offrono agli integratori di apparecchiature un'opzione molto efficiente e flessibile per estendere le connessioni delle porte da un computer a scheda singola interno ovunque il loro design possa richiedere.
* Costruito per applicazioni industriali con materiali conformi a UL, Reach e RoHS di altissima qualità
* Questo cavo per montaggio a pannello ti consentirà di racchiudere un dispositivo dotato di una porta USB A e allo stesso tempo di convertirlo in un moderno connettore USB C.
* Perfetto per mettere il tuo progetto in una scatola sicura! Un'estremità è un connettore USB A e l'altra è una presa USB C con speciale sovrastampaggio. Cosa c'è di speciale in questo, chiedi? È un cavo per montaggio a pannello a scatto molto più semplice di un classico cavo per montaggio a pannello, non sono necessarie viti o trapani per l'installazione.

* Versões de design personalizado para terminações e ferramentas exclusivas são bem-vindas.
* Inovador da indústria Single 3.1 USB C Fêmea Montagem em Painel de Encaixe para Macho USB C Cabo.
* Parte da inovadora linha de cabos de montagem em painel de encaixe, que oferecem um integrador de equipamento uma opção muito eficiente e flexível para estender as conexões de porta de um computador de placa única interno em qualquer lugar que seu projeto possa exigir.
* Construído para aplicações industriais com materiais da mais alta qualidade em conformidade com UL, Reach e RoHS
* Este cabo de montagem em painel permitirá que você inclua um dispositivo que tenha uma porta USB A e também o converta em um conector USB C moderno ao mesmo tempo.
* Perfeito para colocar seu projeto em uma caixa segura! Uma extremidade é um conector de plugue USB A e a outra é um soquete USB C com moldagem especial. O que há de especial nisso, você pergunta? É um cabo de montagem em painel de encaixe muito mais fácil do que os cabos de montagem em painel clássicos, você não precisa de parafusos ou brocas para a instalação.

Paneeliin kiinnitettävä USB-kaapeli Type C -liitäntä

Inklikbare paneelmontage USB-kabel Type C-aansluiting


* Mukautetut suunnitteluversiot ainutlaatuisia päätteitä ja työkaluja varten ovat tervetulleita.
* Alan innovatiivinen Single 3.1 USB C -naarasnapsautuspaneelikiinnitys urospuoliseen USB C -kaapeliin.
* Osa innovatiivista snap In panel -asennuskaapelilinjaa, jotka kaikki tarjoavat laiteintegraattorille erittäin tehokkaan ja joustavan vaihtoehdon porttiliitäntöjen laajentamiseen sisäisestä yksilevytietokoneesta minne tahansa niiden suunnittelu vaatii.
* Valmistettu teollisiin sovelluksiin korkealaatuisimmista UL-, Reach- ja RoHS-yhteensopivista materiaaleista
* Tällä paneeliasennuskaapelilla voit sulkea laitteen, jossa on USB A -portti, ja samalla muuntaa sen nykyaikaiseksi USB C -liittimeksi.
* Täydellinen projektisi sijoittamiseen turvalliseen laatikkoon! Toisessa päässä on USB A -pistokeliitin ja toisessa USB C -liitäntä erityisellä päällyslistalla. Mitä erikoista tässä on, kysyt? Se on Snap In Panel Mount Cable paljon helpompaa kuin perinteiset paneeliasennuskaapelit, et tarvitse ruuveja tai poraa asennukseen.

* Aangepaste ontwerpversies voor unieke beëindigingen en tooling zijn welkom.
* Innovatieve enkele 3.1 USB C vrouwelijke snap-in paneelmontage naar mannelijke USB C-kabel.
* Onderdeel van de innovatieve inklikbare kabellijn voor paneelmontage, die alle apparatuurintegratoren een zeer efficiënte en flexibele optie bieden om poortverbindingen vanaf een interne computer met één bord uit te breiden, overal waar hun ontwerp dat vereist.
* Gebouwd voor industriële toepassingen van de hoogste kwaliteit UL-, Reach- en RoHS-conforme materialen
* Met deze kabel voor paneelmontage kunt u een apparaat met een USB A-poort omsluiten en tegelijkertijd converteren naar een moderne USB C-connector.
* Perfect om uw project in een veilige doos te plaatsen! Het ene uiteinde is een USB A-stekkerconnector en het andere is een USB C-aansluiting met speciale overgiet. Wat is hier speciaal aan, vraag je? Het is een inklikbare kabel voor paneelmontage, veel gemakkelijker dan een klassieke kabel voor paneelmontage, je hebt geen schroeven of boren nodig voor de installatie.

שקע כבל USB מסוג C עם חיבור ללוח נצמד ללוח

كابل USB من النوع C.


* גרסאות עיצוב מותאמות אישית להפסקות ייחודיות וכלי עבודה יתקבלו בברכה.
* חדשני בתעשייה יחיד 3.1 USB C נקבה מצמד ללוח USB C זכר.
* חלק מקו הכבלים החדשני להרכבה לפאנל, אשר כולם מציעים לאינטגרטורים של ציוד אפשרות יעילה וגמישה מאוד להרחבת חיבורי יציאות ממחשב פנימי עם לוח יחיד בכל מקום שהעיצוב שלהם עשוי לדרוש.
* נבנה עבור יישומים תעשייתיים מהחומרים האיכותיים ביותר בתקן UL, Reach ו-RoHS
* כבל זה להרכבה לפאנל יאפשר לכם לצרף מכשיר בעל יציאת USB A, וגם להמיר אותו למחבר USB C מודרני בו זמנית.
* מושלם להצבת הפרויקט שלך בקופסה מאובטחת! קצה אחד הוא מחבר תקע USB A, והשני הוא שקע USB C עם יציקה מיוחדת. מה מיוחד בזה, אתם שואלים? זהו כבל מוצמד לפאנל קל הרבה יותר מאשר כבלי הרכבה לפאנל קלאסי, אתה לא צריך ברגים או מקדחות להתקנה.

* نرحب بإصدارات التصميم المخصصة للإنهاءات والأدوات الفريدة.
* تركيب لوحة تركيب منفذ 3.1 USB C أنثى مبتكر صناعي لكابل USB C ذكر.
* جزء من خط الكابلات المبتكرة في اللوحة والتي تقدم جميعها لمتكامل المعدات خيارًا فعالًا ومرنًا للغاية لتوسيع اتصالات المنفذ من جهاز كمبيوتر داخلي أحادي اللوحة في أي مكان قد يتطلبه تصميمها.
* مُصمم للتطبيقات الصناعية من مواد عالية الجودة متوافقة مع UL و Reach و RoHS
* سيسمح لك كابل التثبيت على اللوحة هذا بإرفاق جهاز به منفذ USB A ، وكذلك تحويله إلى موصل USB C حديث في نفس الوقت.
* مثالي لوضع مشروعك في صندوق آمن! أحد طرفيه هو موصل قابس USB A ، والآخر عبارة عن مقبس USB C مع قولبة خاصة. ما الذي يميز هذا ، تسأل؟ إنه كابل Snap In Panel Mount أسهل بكثير من الكابلات المثبتة على اللوحة الكلاسيكية ، ولا تحتاج إلى براغي أو مثاقب للتثبيت.